The Floor Is Open: Send in All the Investing Questions You Want Answered by February 18
What's on your mind?
Between Reddit forums telling people to buy cannabis stocks…
The imminent end of federal cannabis prohibition…
Cannabis Venture Trust opportunities giving everyday investors new ways to profit…
More companies gearing up to go public…
And a massive merger and acquisition (M&A) spree…
There's a lot happening in cannabis right now.
But no matter what, the team at the National Institute for Cannabis Investors and I are in your corner.
We know you have a lot of questions.
And that's why I wanted to open up the floor to you this week.
Because I'm here to answer them…
Submit Your Questions by the Morning of February 18
Over the next three days, send me your questions in the comment section below.
Do you want to see a Deep Dive video on a certain company?
Do you want to know more about the projected timeline for full cannabis legalization?
Do you want more details about the difference between investing in United States companies over Canadian companies?
Do you want to hear about which U.S. companies I believe will be the first to list on the Nasdaq and New York Stock Exchange (NYSE)?
I'm going to look over your questions and answer as many as I can in a special video recording that I'll release on February 18, right around 9:30 P.M. ET.
Make sure to send in your questions about cannabis and cannabis investing in the comment section below.
Take care,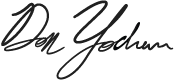 Don Yocham
Executive Director, National Institute for Cannabis Investors
---
Comments
107 responses to "The Floor Is Open: Send in All the Investing Questions You Want Answered by February 18"
Published
February
16
2021