The Courage of Your Convictions Is Your Key to the Biggest Gains in Cannabis
This is just how profitable acting on the courage of your convictions in cannabis stocks can be…
Successful investing requires courage of your convictions.
Waffling and waiting on consensus never works. Because by the time what you see becomes evident to everyone else, the opportunity to pull down outsized profits is already long gone.
When an opportunity with so much potential that it's hard to gauge the total upside becomes clear in your mind, don't worry about what others do or don't see.
You owe it to you and your family's financial success to muster your confidence and formulate a plan to benefit fully from your foresight.
And to all our NICI Membership subscribers who have plunged head-first into cannabis stocks, I want to make sure I congratulate you for acting on the courage of your convictions.
It took courage to dive into cannabis after the 2019 dip and that final COVID-19 fueled sell-off.
It took courage to buy cannabis stocks selling a product that's still federally illegal.
And it takes courage to own the top names in cannabis while all the Big Money brokers, investment banks, and mutual funds controlling tens of trillions of dollars are still locked out by federal law.
But you've stuck to your guns.
You knew cannabis's legal status would change. You knew state-by-state recreational use would expand the market massively, regardless of the federal government's continued prohibition. And you know nothing can hold back the coming cannabis Boom.
So today, I want to show you just how profitable acting on the courage of your convictions can be…
Early Rewards
Last July, you sold Curaleaf Holdings Inc. (OTC: CURLF) for 120% gains. In November, you got back in. And between that first gain and the profits you've realized since November, you're up a total of 390%.
Or Planet 13 Holdings Inc. (OTC: PLNHF). You first sold out in August for a 100% return. Then you got back in a little cheaper in November. Today you're staring at a gain of 240% so far on both trades.
Then there's GW Pharmaceuticals (Nasdaq: GWPH). You got stopped out for a 25% gain when the stock sold off in August 2020 on an inconsequential scare.
But you stepped back in two days later.
And just last week, Jazz Pharmaceuticals (JAZZ) made a $220 per share bid for GW Pharmaceuticals. With the massive, single-day 45% rally that resulted from the buy-out offer, you bagged a 138% profit.
Even that's just a peek at the massive early wins your courage has delivered to your brokerage accounts.
You have six other positions in your NICI Membership model portfolio right now that average returns of over 200%. And among them, you'll find Jushi Holdings Inc. (OTC: JUSHF), which has rallied a remarkable 458% since we recommended you buy it back in July 2020 at about $1.50.
Jushi now trades for over $8.50, and it's just getting started – along with the rest of the top names in cannabis.
Because here's what we know.
What You Know
We know the path from today's $20 billion cannabis market to $100 billion will drive cannabis sales faster than any other industry over the next few years. We're talking year-over-year growth for cannabis sales between 40% and 60%.
You simply won't find that kind of growth in any other sector.
We also know that the top 20 United States cannabis companies – including the names that NICI Membership subscribers own – will capture 80% of that market.
That kind of market dominance will drive revenue growth for those companies at least twice the overall industry rate, which means we're talking growth rates of well over 100% for those U.S. cannabis companies that end up with a dominant market share.
Now, we don't know just how massive the total cannabis market will be. Will it be $100 billion or $200 billion?
Neither do we know how rabid the Big Money buyers will be once federal cannabis legalization gives them the "All Clear." It'll be frenetic, but just how frenetic remains to be seen.
Nor do we know whether the stocks in the NICI Membership model portfolio will leap 20X to 30X higher from where they are now – or 100X. Maybe even more.
Because there are simply far too many paths to profits still to come.
Consider this:
There's the massive jump in cannabis users that comes with legalized recreational use – that 50% of adults who are waiting until cannabis is legal to try their first product…
The potential for an entirely new market of that cannabis-infused edibles and beverages can reach; in fact, just in the first week the COVID-19 pandemic was declared, edibles saw a 10.6% week-over-week boost in market share in Colorado, Washington, California, and Nevada…
The medical market can grow by leaps and bounds as doctors educate themselves on the remarkable healing powers of cannabis…
An entirely new dimension to health and wellness products still possible from CBD…
100-plus cannabinoids, in addition to THC and CBD, that can take us who knows where recreationally or medically…
And the truly phenomenal potential for pharmaceutical companies to develop a whole host of drugs based on THC, CBD, and all the rest.
All we really know is this. We know what direction the cannabis industry is headed, which companies will be at the top of the heap in a couple of years, and that it's heading in that direction incredibly fast.
Which means that for those of you waffling until the consensus of the crowds confirms your conviction, you can no longer afford to wait.
The time to muster your courage is now.
Know that federal legalization is imminent. The cannabis Boom is unstoppable. The gains in store for those with the courage to act today will be life changing.
And by joining NICI Membership, you'll have all the courage and conviction you need to create your own fortune – starting today.
Click here to learn how you can join us.
Take care,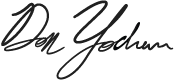 Don Yocham
Executive Director, National Institute for Cannabis Investors
---
Comments
16 responses to "The Courage of Your Convictions Is Your Key to the Biggest Gains in Cannabis"
Published
February
11
2021